Contacts
AGRICULTURAL CO-OP
OF MANDAMADOS
Lesvos TK-81104, Greece

Tel: +30-22530-61096
Fax: +30-22530-61239

E-mail:
asmadama@otenet.gr

Co-op's URL:
https://www.asmandamados.com
Shop's URL:
https://shop.asmandamados.com

AGRICULTURAL CO-OP OF MANDAMADOS
About Mandamados (Mantamados)
With regard to Mantmados, we do not have any specific information regarding the exact year of its establishment. Several researchers claim that the community was first founded in pre-Hellenistic times. They base their claim on the name of the Lesvados district (where a shrine dedicated to Taxiarhis is located today), which was the ancient name of the Lesvian son of Lapithos, king of the Aeoleans, who had colonized the island and given it his name. The shrine that is dedicated to Taxiarhis was quite possibly a temple to the sun god Apollo, which was subsequently converted into a Christian holy site during the first years of Christianity.
According to other accounts, the community of Mantamados was first founded at its present location a result of the consolidation of villages along the island's shores that had been destroyed by pirate raids. This would explain the fact that it is situated inland, near the Taxiarhis Monastery, in order to afford its residents a greater degree of safety from the marauding pirates. The town's name quite possibly came from the cattle that used to graze in the area and were called "mantades".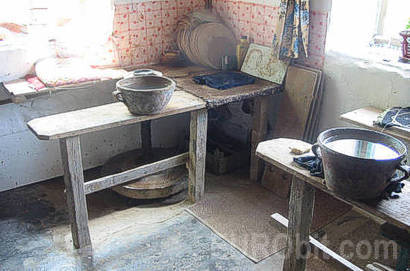 In 1894, Mantamados became a regional administrative center, and included the communities of Kapi, Kleio and Koukmidou in its jurisdiction, up until 1918 when each of these became self-administered villages. In 1917, a town court was established in Mantamados that operated continuously up until the 1970s. In 1879, construction on the Taxiarhis Church was begun, which was completed almost a decade later in 1888. The church was consecrated on Myrrh Sunday, and ever since a grand celebration is held to mark the event with worshippers visiting the town for this occasion from throughout Greece and abroad. From 1907 to 1911, the "mihani t'agiou" (saint's machine) was built here, which was a significant event in the town's economic and social development.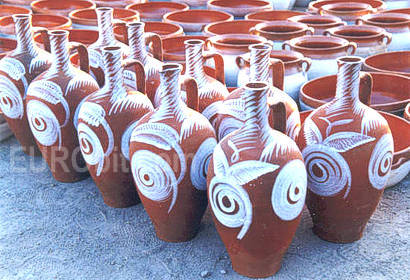 For the residents of Mantamados, ceramics and pottery making have always been one of their traditional activities. The vast number of abandoned kilns that still exist in the district, primarily in its coastal areas, gives us an idea of the tremendous significance that this craft had for the local economy:
Pedi, Aspropotamos, Koulostasi, Agios Stefanos, Kalafatis, Myriantri, Kamila, Palios, Anihtos, and above all Mantamados, all used to be significant centers of production, judging by the number of stone kilns that still exist there. In Mantamados alone, there were at least 20 medium-size workshops, while along the coast there were approximately 44, of which only a few survive today.