Contacts
AGRICULTURAL CO-OP
OF MANDAMADOS
Lesvos TK-81104, Greece

Tel: +30-22530-61096
Fax: +30-22530-61239

E-mail:
asmadama@otenet.gr

Co-op's URL:
https://www.asmandamados.com
Shop's URL:
https://shop.asmandamados.com

AGRICULTURAL CO-OP OF MANDAMADOS
The pilgrimage of Taxiarches in Mandamados
"During the 9th and 10th Centuries, the Saracen pirates had become the terror of the entire island. One of their targets had been an old monastery in the Mantamados area. During one of their raids, the Saracens slaughtered all of the monastery's monks. In his attempt to escape the inevitable, one of the monks climbed up on the monastery's roof, but the pirates were in hot pursuit.
As they approached him with swords drawn, Taxiarhis suddenly appeared in front of the Saracens with his own sword drawn, forcing them to retreat in a panic, and saving the life of the monk. In a show of respect and gratitude, the monk decided to create an icon in honor of the saint out of clay and his fallen comrades' blood. However, since he did not have enough clay, the head of the saint turned out to be disproportionately large to the rest of the body."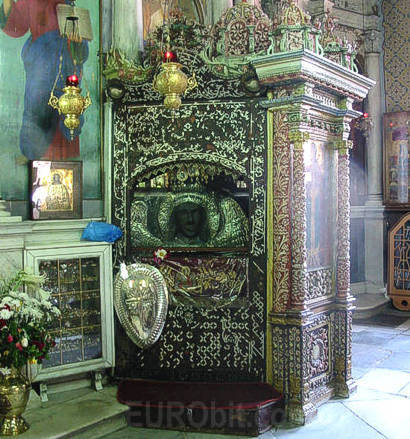 This is the legend of the celebrated saint's icon at the Taxiarhis Monastery in Mantamados, the only carved icon on Lesvos. To this day, pilgrims have mixed emotions regarding this icon, since according to personal accounts the saint's expression can at times appear severe, sad or happy, according to the message that he wants to convey to the faithful.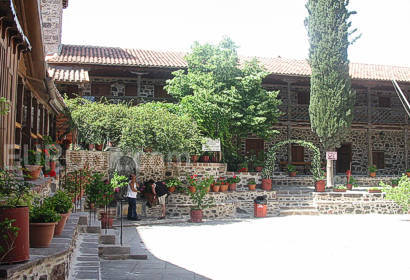 The monastery, which dates back to 1700, is located only a short distance from the village in a clearing surrounded by olive groves and pine forest. Taxiarhis is the patron saint not only of the area, but the entire island, and is oftentimes revered even by the Muslim Turks thanks to his many miracles.
Pilgrims come to pray at the monastery's church from throughout Greece and abroad, and leave various offerings in his honor, that include everything from swords to shoes.
OUR RETAIL SHOP IS EXACTLY OPPOSITE THE MONASTERY AND IT IS A MUST FOR YOU TO VISIT AND BUY OUR UNIQUE CHEESES AND MORE...